Meets BAC5435 & MIL-STD-1599 requirements for installation and retention of anti-friction ball bearings.
Eliminates need for sleeve components to be swaged during bearing installation, thus reducing assembly cost.
Mitigates potential damage to bearing housings during installation and removal of bearings, reducing the cost of maintenance
The most robust installation method when compared to press fitting and anvil swaging.
Creates opportunities for weight-saving designs.
Contact us to design a Swageable ball bearing for your application!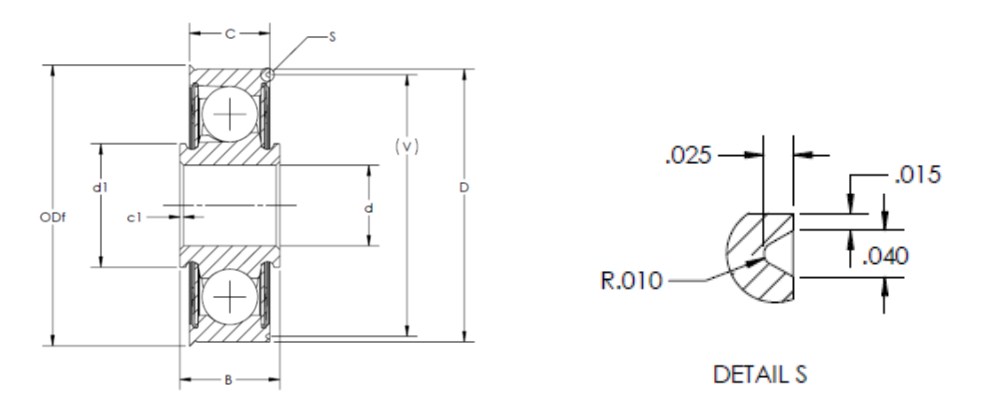 Bearing Part Number
Bore
OD
Width
d1
c1
ODF
Groove Ø
Rad Limit
Thrust Limit*
d
D
B
C
d1
c1
ODF
(V)
KP3
0.1900
0.8399
0.297
0.270
0.331
0.005
0.8949
0.7699
1880
900
KP4
0.2500
0.9639
0.484
0.335
0.387
0.005
1.0189
0.8939
2680
1200
KP5
0.3125
1.2500
0.558
0.375
0.469
0.015
1.3050
1.1800
5620
2088
KP6
0.3750
1.4375
0.620
0.469
0.591
0.015
1.4925
1.3675
7910
2401
KP8
0.5000
1.6875
0.620
0.500
0.752
0.015
1.7425
1.6175
11810
2818
KP10
0.6250
1.9375
0.620
0.500
0.850
0.015
1.9925
1.8675
14100
3236
Bearing Part Number
Bore
OD
Width
d1
c1
ODF
Groove Ø
Rad Limit
Thrust Limit*
d
D
B
C
d1
c1
ODF
(V)
VKP3
0.1900
0.8399
0.297
0.270
0.331
0.005
0.8949
0.7699
1880
900
VKP4
0.2500
0.9639
0.484
0.335
0.387
0.005
1.0189
0.8939
2680
1200
VKP5
0.3125
1.2500
0.558
0.375
0.469
0.015
1.3050
1.1800
5620
2088
VKP6
0.3750
1.4375
0.620
0.469
0.591
0.015
1.4925
1.3675
7910
2401
VKP8
0.5000
1.6875
0.620
0.500
0.752
0.015
1.7425
1.6175
11810
2818
VKP10
0.6250
1.9375
0.620
0.500
0.850
0.015
1.9925
1.8675
14100
3236