SCHATZ HC™ SERIES
Schatz HC™ Series Corrosion-Resistant Guide Wheels and Track

LINEAR BEARINGS FOR HARSH ENVIRONMENTS.
The double v profile on the bearing supports applications that require either an internal 90 degree angle or an external 90 degree angle. Bearings are manufactured using AISI 52100 steel, AISI 440C stainless steel or high corrosion resistant stainless steel (EMS138).
Applications
Aerospace and Defense
Medical Equipment
Semiconductor Equipment
Food and Packaging Equipment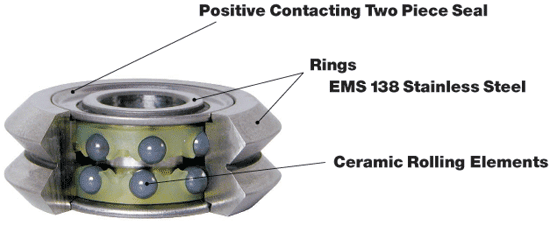 Extremely high corrosion resistance and long fatigue life
Superior corrosion-resistance combined with excellent fatigue-resistance makes the Schatz HC™ the superior choice for demanding linear applications. Typical corrosion-resistant bearings utilize 440C for the material. Although 440C has better corrosion-resistance than standard non-stainless bearing materials, the use of the 440C results in a significant loss of fatigue or wear life. The material composition of the steel used in HC™ bearings allows the bearings to be produced with a unique combination of high fatigue-resistance and extremely high corrosion-resistance.
Schatz HC™ Guide Wheel bearings utilize EMS138 stainless steel for the inner and outer rings with silicon nitride (ceramic) balls.
Schatz HC™ linear track utilizes EMS138 stainless steel. The V section of the track is hardened to Rc53 min.