A shorter version of this story appears in the May 16, 2017 issue of Forbes.
In a sea of factory failure, survivors bobbing on the surface stand out. Two of them are Dutchess Metal Supply and Schatz Bearing Corp. The common thread: They reinvented themselves.
Dutchess Metal opened its doors 29 years ago as a supplier of steel and aluminum stock – sheet, plate, tube, angle – to manufacturers near Poughkeepsie. And then the customers began to disappear.
Brian Kesting, president of Dutchess Metal, wistfully rattles off the names of factories that died. They made mattress stuffing, dairy equipment, plastic playing cards, metal cases for mainframe computers, the Golden Books for kids, elevators, machinists' gauges and machinery for wire-binding notebooks.
Kesting's firm, with 15 employees, survived by adding value to its metal. While clinging to what was left of the steel distribution business, it took on custom metal-forming assignments. Space has been made in the warehouse for water-jet cutters, welding stations and a just-arrived 175-ton Cincinnati press brake. The resulting parts might go into utility trucks, skyscrapers or furniture.
The bearings company is a story of death and resurrection. It started out as Schatz Federal Bearings, once one of Poughkeepsie's largest employers, with 1,150 workers as late as 1956. They made low-end products for the automobile industry.
Crippled by a 15-month strike, the old Schatz went bust in 1980. An ambitious entrepreneur brought it back to life, via some assets sold at the bankruptcy auction.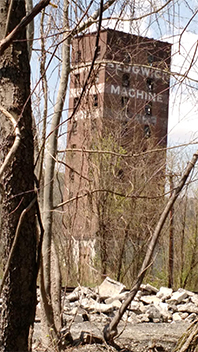 Housed in a building a few hundred yards from the abandoned factory of the old company is a new entity, debt-free and profitable. The 83 employees of Schatz Bearing Corp. eschew mass production in favor of custom orders, quick turnarounds and high-end products for aerospace. Some of their ball bearings are made to specs measured in microns and cost thousands of dollars apiece, says President Stephen Pomeroy, who has an engineering Ph.D. from MIT.
Wouldn't Texas be a lower-cost location It would, but moving would entail an arduous process of getting recertified for airplane contracts. Schatz is likely to stay put.
A handful of success stories like these dont alter the big picture. New York is a dreadful place for manufacturers. We'll illustrate with photos of factory has-beens.
Sedgwick Machine Works had a glorious past as a foundry and machinery company going back to the 17th century. It was once famous for its dumb waiters and elevators, including an unmotorized elevator that Franklin D. Roosevelt operated by hand in his Hyde Park, N.Y. home.
It had an inglorious end after it moved from Massachusetts to New York. The vertical hulk displayed above, in Poughkeepsie near the Hudson River, was once an elevator testing lab.
Wappinger Falls, just south of Poughkeepsie, is best remembered as host to the Tawana Brawley brouhaha. But once upon a time it was a powerhouse in textiles and apparel. Above: This collection of buildings near the mouth of the Wappinger Creek once housed a thousand workers doing calico prints, dyeing and bleaching. Some of the structures are finding new life as storage and studio spaces.
Above: This brick building in downtown Poughkeepsie once was the proud home of the Poughkeepsie Underwear Co. Now? Shops and subsidized apartments.
The headquarters of the old Schatz Federal Bearings Co., above, has been abandoned for three decades. The successor company found more-hospitable premises down the street.