Schatz Semiconductor Bearings: Designed for Rapid, Repeatable, and Reliable Processing.
Schatz precision bearings are essential components in a variety of equipment used in semiconductor, circuit, and chip manufacturing. We provide precision bearing solutions for a variety of highly technical applications derived from years of experience and thorough knowledge of the complications of semiconductor manufacturing environments.
Applications include:
Wafer Processing
Robotics
Polishers
Photolithography Equipment
Dryers
Process Improvement
Spin dryers
Vacuum Environment Applications
And More!
Semiconductor Bearing Characteristics
Schatz designs and manufactures several ball bearing configurations for semiconductor processing equipment. Bearing configurations can be thin section, angular contact, pre-loaded duplex sets, or custom designed combinations; optimized to maximize performance based on torque, stiffness, and life requirements.
Our semiconductor bearings feature:
Optional stainless steel construction (CRES & CREN Steels)
Hybrid material combinations available, including SiNi balls.
High-precision running accuracy
Precision levels ABEC 1F, 3F, 5F, or 7F
Bearing bores up to 14"
Thin section cross-sections of 3/16", 1/4", 5/16", 3/8", 1/2", 5/8", 3/4", and 1"
Lubrication combinations specific for extended life in semiconductor processing equipment
Custom and industry accepted sealing options
Assembled in world-class ISO Class 6 authorized clean room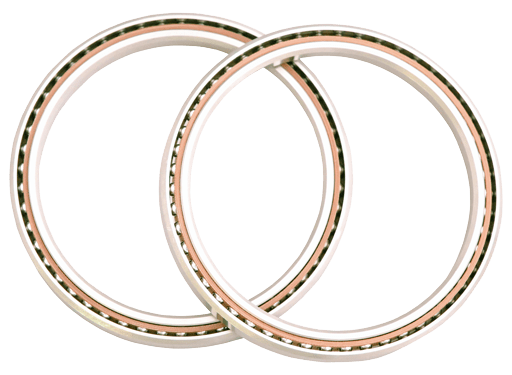 Schatz Bearing: The Most Responsive Semiconductor Bearing Manufacturer, on a Global Level.
Whether your requirements are for low or high volumes, custom designs, or extremely clean bearing components, the team at Schatz Bearing has the experience needed to meet the challenge.
Please contact our experienced engineers to discuss the specifics of your application requirements.